DIVJE BABE I. Upper Pleistocene Palaeolithic site in Slovenia
Part I: Geology and Palaeontology
17. Morphometric study of cave bear metapodials from Divje babe I

Borut TOŠKAN
Abstract
Morphometric analysis of 1,598 cave bear metapodials from the Upper Pleistocene (OIS 3 and OIS 5) layers of Divje babe I showed that the metric data allow differentiation between the sexes. It was found that the share of the two sexes among the material from OIS 5a-5d is comparable, while approximately two thirds of metapodials from OIS 3 are male. The increased share of males in OIS 3 is explained by longer, colder and damper winters in this period than in OIS 5a- 5d. Namely, studies of recent brown and black bear have highlighted a causal link between the occurrence of harsher climatic conditions, on the one hand, and increased intersexual competition for available lairs on the other. The sex ratio from the only two relatively warm/dry phases in OIS 3, with which the comparative share of representation of the two sexes does not differ from the sex structure of material from the relatively warm and dry OIS 5a-5d, is in line with such an interpretation..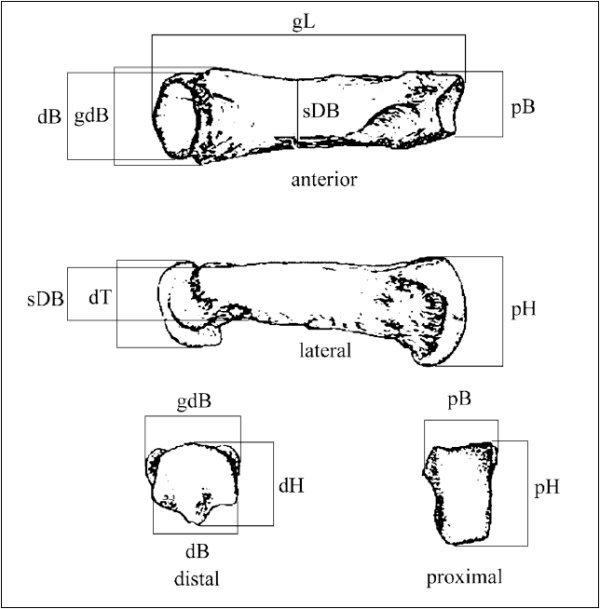 Cave bear (Ursus spelaeus) metapodial with measured dimensions marked. See text for definition of individual dimensions.
***
2007, (Opera Instituti Archaeologici Sloveniae, 13), 480pp, 10 colour photoogaphs, 178 b-w drawings, photoogaphs and maps, 89 tabels and 38 annexes; 20 x 29 cm, hardcover, ISBN 978-961-254-019-7.