STARE GMAJNE PILE-DWELLING SETTLEMENT AND ITS ERA
The Ljubljansko barje in the 2nd half of the 4th millennium BC
Katarina ČUFAR, Anton VELUŠČek, Tjaša TOLAR & Bernd KROMER
7. Dendrochronological research at the pile-dwelling settlements Stare gmajne and Blatna Brezovica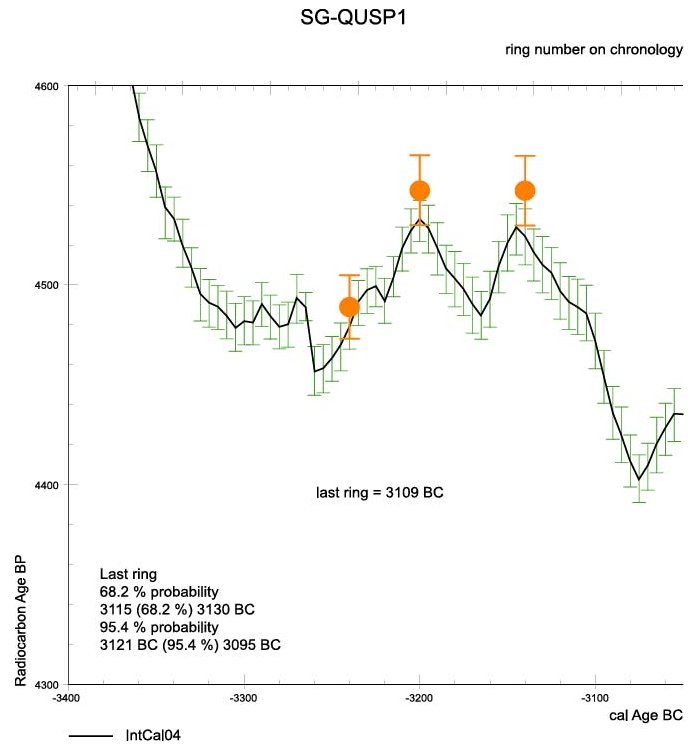 Absolute dating of the Stare gmajne SG-QUSP1 chronology using the "sequence" option of the OxCal 3.5 program
Abstract
We present the results of dendrochronological and radiometric researches on the pile-dwelling settlements Stare gmajne and Blatna Brezovica, both located at the Ljubljansko barje.
The pile-dwelling settlements date to c. 3100 BC. The research has also showed that they were contemporary or that Blatna Brezovica existed somewhat later
Keywords: dendrochronology, radiocarbon dating, Stare gmajne, Blatna Brezovica, the Ljubljansko barje, Eneolithic.
***
2009, (Opera Instituti Archaeologici Sloveniae, 16), 366 pages, 258 b-w drawings, photos, tables, graphs and maps, 45 plates, 3 appendices, 20 x 29 cm, hardcover, ISBN 978-961-254-111-8.