FRAGMENTS OF ICE AGE ENVIRONMENTS
Palaeobotanical research at Palaeolithic sites in Slovenia
Metka CULIBERG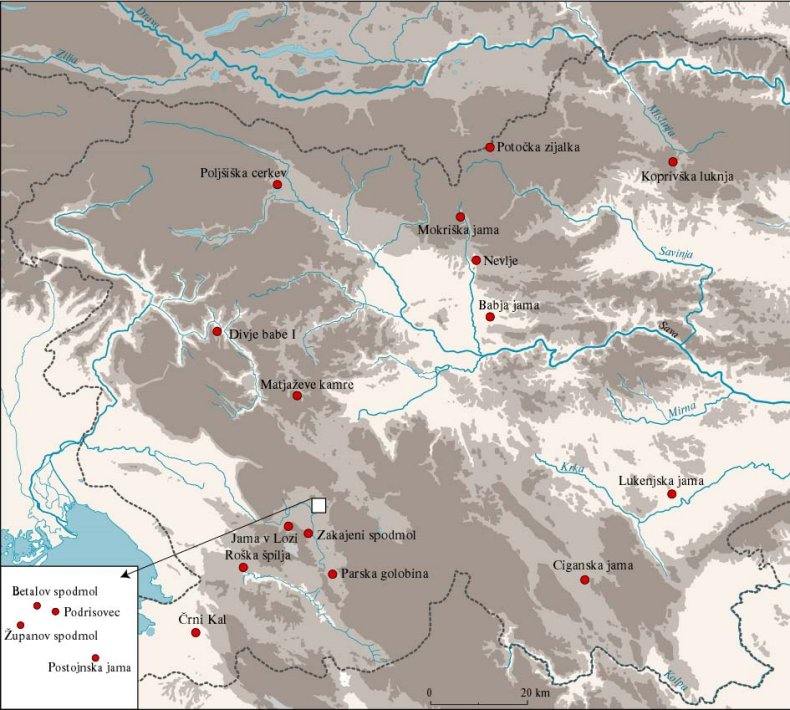 Palaeolithic sites in Slovenia with palaeobotanical finds.
Abstract
Palaeobotanic material, such as wood charcoal and/or pollen has been found in numerous Palaeolithic sites in Slovenia. More than 20 charcoal rich hearths were discovered in the Mousterian cave site Divje Babe I from the Middle Würm (approximately 80,000 to 40,000 BP). Thousands of specimens of charcoal were analysed from this site. It was established that conifers (Pinus, Picea, Abies, Larix, Taxus, Juniperus) dominated the vegetation in the area of the site during that period, which were joined in warmer periods of the Glacial by various deciduous species, including beech (Fagus). Pollen analysis was also performed on sediments from the 9-meter deep profile. Palaeobotanical finds from other, mostly Upper Palaeolithic sites are much more scarce; however, it can be seen that Pinus was present in the vicinity of the sites in the last Würm stadial (W III), and was joined by other conifers in the Late Glacial and, soon afterwards, by deciduous trees, including beech.
Keywords:archaeobotany, Palaeolithic sites, Slovenia
***
2011, (Opera Instituti Archaeologici Sloveniae, 21), 280 pages, 44 b-w photographs, 10 drawings, 52 tables, 71 graphs and 9 maps, 20 x 29 cm hardcover, ISBN 978-961-254-257-3.