FRAGMENTS OF ICE AGE ENVIRONMENTS
Neanderthal flute from Divje babe I: old and new findings
Matija TURK, Ljuben DIMKAROSKI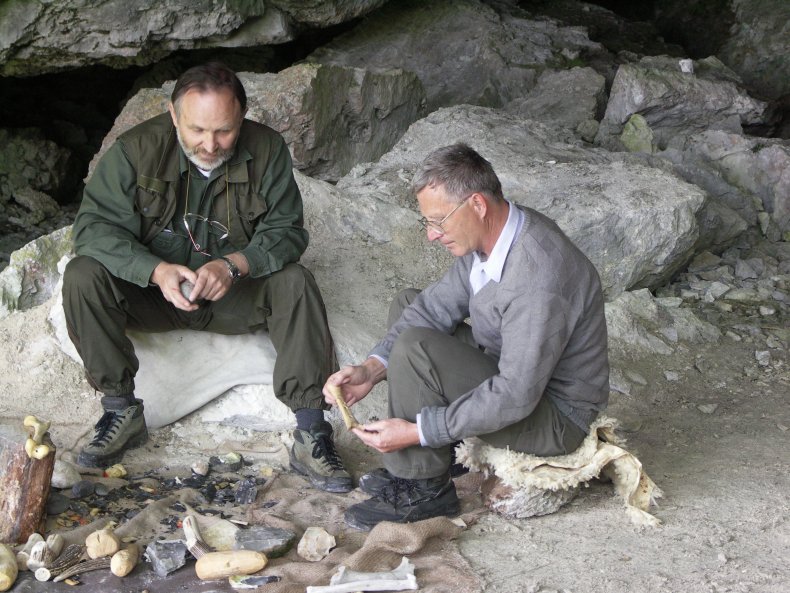 Giuliano Bastiani and Ivan Turk piercing holes in a fresh brown bear femur.
Abstract
The perforated femur of a cave bear, found in 1995 in the Palaeolithic cave site of Divje babe I (western Slovenia), has been the subject of many a heated discussion on its origin since its discovery. Whereas some advocate a natural origin of holes, the consequence of carnivore gnawing, others argue for an artificial origin and see in it the product of a Neanderthal. The results of experimental piercing of fresh brown bear femurs using casts of carnivore teeth, the results of experimental archaeology as well as computer tomography of the disputed flute confirm the latter, that is artificial origin of the holes. This is further confirmed by the latest musicological research, which brings new findings on the musical capacity of the flute. This research was carried out on an authentic replica of the flute, whereby the proximal part of the flute served as the mouthpiece and the distal, broader part as the bell. The disposition of holes and the preserved length of the flute form a system, which enables a wide range of sonority and melodic motion and thus reveals the object as an instrument in the proper sense of the word. In the sound sequence of a twelve-tone scale, the instrument has a two and a half octave compass, which extends to over three octaves by over-blowing. The technical capacity of the instrument in terms of expression thus leaves no doubt as to the artificial origin of holes and their deliberate alignment. The layer, in which the flute was found, is ESR dated to between 60 and 50 ky in the past. The flute from Divje babe I is today considered the oldest instrument and the first known to have been made by Neanderthal hands. Its technological perfection points to high cognitive abilities of Neanderthals.
Keywords: Slovenia, Divje babe I, Middle Palaeolithic, Neanderthals, bone flute, music
***
2011, (Opera Instituti Archaeologici Sloveniae, 21), 280 pages, 44 b-w photographs, 10 drawings, 52 tables, 71 graphs and 9 maps, 20 x 29 cm hardcover, ISBN 978-961-254-257-3.