SPAHA
Anton VELUŠČEK
3. Spaha: archaeological research and settlement structures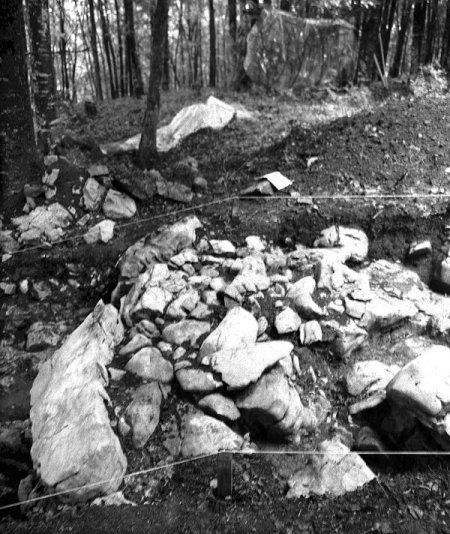 A wall remains in trench II. Photo: G. Hirschbäck - Merhar.
Abstract
This article presents the archaeological research at Spaha. Descriptions of trenches, horizontal and vertical stratigraphy are introduced on the basis of the site documentation. The dispersion of archaeological finds (pottery and house plaster) in space (horizontal stratigraphy) and time (vertical stratigraphy) are also studied.
We determined the approximate position of 13 prehistoric houses which belong to the time from the Sava group until the Urnfield culture. The location for houses was chosen among the rocks where the soil is somewhat thicker. The highest number of the determined houses is from the Sava group and Lasinja culture.
We also established that in the time of the Sava group there was a defence wall built at the south side of the upper plateau and that in the period of the horizon of pottery with furrowed incisions both plateaus were inhabited.
In the time of the Turkish invasions to the Slovenian territory a beacon with a wooden hut - a watchtower was located at Spaha.
Keywords: hilltop settlement, watchtower, archaeological research, stratigraphy, settlement structures, methodology
***
2011, (Opera Instituti Archaeologici Sloveniae, 22), 296 pages, 88 b-w and colour photos, drawings and charts, 31 tables, 27 graphs and 42 plates, 20 x 29 cm, hardcover, ISBN 978-961-254-290-0.