SPAHA
Anton VELUŠČEK
5. Spaha and chronology of central and south Slovenian neolithic and early eneolithic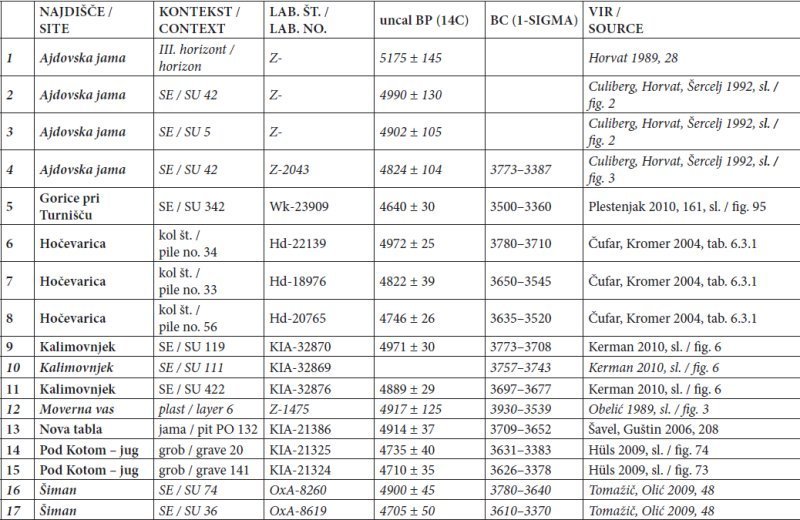 The published radiocarbon dates for the horizon of pottery with furrowed incisions from sites in Slovenia.
Abstract
This article draws attention to certain chronological problems of Neo- and Eneolithic research in Slovenia. We introduce the settlement chronology of Spaha and reset the relative and absolute chronological scheme of the Neolithic and Eneolithic at the studied area.
We discovered that Spaha was inhabited in the period of the Sava group (4712- 4547 (or 4726-4504) BC), which we parallel with the Late Lengyel period (Lengyel III) in the west of Hungary. Settlements in the time of the Lasinja culture (4366-4080 BC), horizon of pottery with furrowed incisions (3775-3519 BC), and the Urnfield culture followed. In the 16th century, probably a wooden watchtower with a stone foundation was built here.
Keywords: methodological problems, comparative typological analysis, absolute dating, Sava group, Lasinja culture, horizon of pottery with furrowed incisions, Urnfield culture, 16th century watchtower
***
2011, (Opera Instituti Archaeologici Sloveniae, 22), 296 pages, 88 b-w and colour photos, drawings and charts, 31 tables, 27 graphs and 42 plates, 20 x 29 cm, hardcover, ISBN 978-961-254-290-0.