PROGRAMME:
Roman inscriptions of Slovenia
The Institute has a central database (including many photographs) of all Roman inscriptions of Slovenia, representing the centre of epigraphy within the Research Centre of the Slovenian Academy of Sciences and Arts. The database is currently being supplemented with new data. The Roman inscriptions form an important part of the archaeological heritage of Slovenia.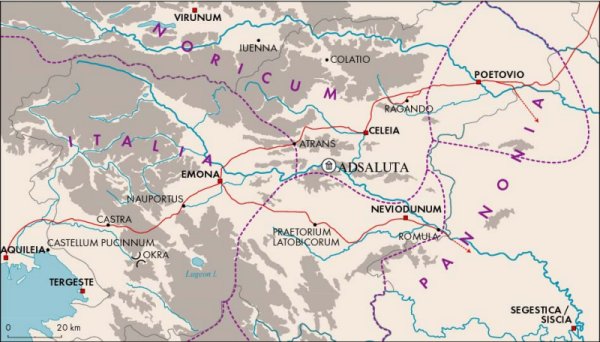 The territory between Aquileia and Siscia with marked sanctuaries to Savus and Adsaluta.
This project is in many ways similar to the epigraphic projects of many European and other countries, where new Roman inscribed stone monuments are currently being discovered. It is also included within the great project of a new edition of all Roman inscriptions of the Roman Empire (Corpus inscriptionum Latinarum), coordinated by the Berlin-Brandenburg Academy of Sciences.
The project is being carried out in cooperation with the University of Ljubljana, in order to publish the inscriptions sooner. Of the six planned volumes: The Roman Inscriptions in the National Museum of Slovenia; Inscriptiones Latinae Sloveniae 1: Neviodunum; ILSl 2 (Celeia); ILSl 3 (Emona); ILSl 4, 5 (Poetovio in two volumes) the first two have already been published, while work is continuing on the other four volumes.
| | |
| --- | --- |
| | |
| colonia Iulia); they had estates in the region of Spodnje Gameljne near Ljubljana (AIJ 209). | The goddess Celeia (the patroness of the town) was honoured together with Iuppiter Optimus Maximus and the patroness of the province, Noreia (CIL III 5188 = ILLPRON 1649). |
An important part of the project is research into (pre)Roman religion. Several contributions will be devoted to the Roman and indigenous cults, in particular to the problems of Celtic religion in the northern Adriatic and eastern Alpine regions, as well as western Pannonia.
Contact:
Marjeta Šašel Kos
<< The Romanisation processes on the territory of Slovenia
>> Greek and Roman literary sources for the eastern Alpine area and the western Balkans
Top