SPAHA
Anton VELUŠČEK
1. Spaha above Brezovica pri Predgradu through time - prehistoric settlement point and its meaning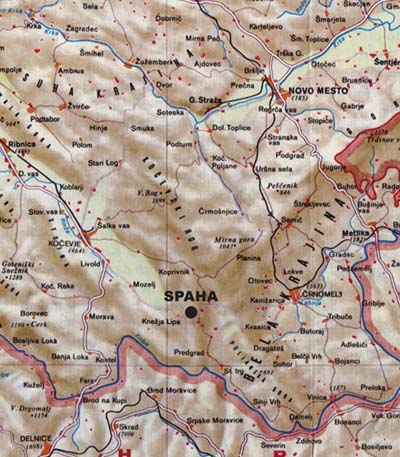 A map of southern Slovenia with Spaha
Abstract
This article presents geographic and other environmental characteristics of the Kočevska (Gottschee), i.e. the region where the archaeological site Spaha is located. A small number of archaeological sites indicate that this region is archaeologically still relatively poorly known.
The settlement of Spaha was concentrated in four archaeological and one historical period, from the Neolithic to the beginning of the Early Modern Period, and was not continual. The analysis of finds reveals an extraordinary strategic location of the site, along the road of the first copper prospectors in this area and near the deposits of clastic rocks, which are used to make querns. These are the two factors that were surely decisive for the population of this interesting, yet rocky and difficult to live at world 826 m above sea level.
Keywords: prehistoric hilltop settlement, 16th century beacon, copper prospectors, raw material for querns
***
2011, (Opera Instituti Archaeologici Sloveniae, 22), 296 pages, 88 b-w and colour photos, drawings and charts, 31 tables, 27 graphs and 42 plates, 20 x 29 cm, hardcover, ISBN 978-961-254-290-0.