RESNIKOV PREKOP. The oldest pile-dwelling settlement in the Ljubljansko barje
Borut TOŠKAN and Janez DIRJEC:
Remains of mammal fauna at Resnikov prekop, Ljubljansko barje
Abstract
The aim of this archaeozoological research is to explain the taphonomic processes at the site with Sava group pottery at Resnikov prekop (Ljubljansko barje, central Slovenia). Erosion of a large part of the excavated remains proves that they lay in running water, which scraped them with sand particles. The results of the taphonomic analysis indicate that the current was not very strong, which gives no grounds to presume that the small number of excavated animal remains is in any way connected to their displacement by water currents. It is more likely that their scarcity is a result of the short life span and spatial limitation of the settlement.
Key words: Slovenia, Ljubljansko barje, Sava group, mammal remains, taphonomy, displacement of finds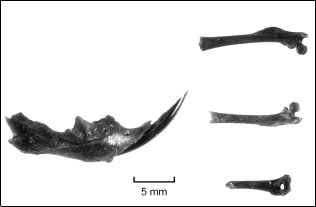 Various stages of erosion of small mammals.
Photo: M. Zaplatil.
***
2006, (Opera Instituti Archaeologici Sloveniae, 10), 156 pp, 88 b/w drawings, photos, tables, graphs and maps, 20 x 29 cm, hardcover, ISBN 961-6568-40-X.