PROGRAMME:
Late Antique settlement of Slovenia and its placement in the settlement structure of the Roman Empire
Various research procedures are included in the study of the Late Antique settlement pattern (analyse of already accumulated data, topography, use of LIDAR technology, site measurements, key site excavations – Tonovcov grad).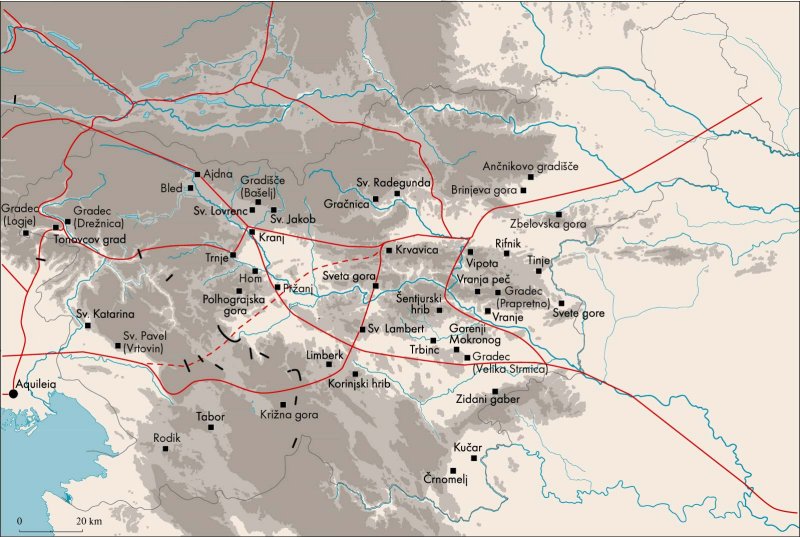 Late Antique settlement of Slovenia.
A comparative analysis of fortified hilltop settlements will help improve their typology and chronology, using the study of small finds we will establish level of settlement self-sufficiency and the placement of the settlements into the commercial network of the period. Together with rescue excavations in the lowlands of Slovenian countryside and in the Roman towns, which uncover the settlement pattern of the beginnings of the Late Antique period, we will be able to evaluate the settlement structure and its phenomena.
Two important Late Antique fortified settlements in Slovenia will be published as monographs: Korinjski hrib which best represents the last type of military fortitfications in the Southeast Alpine region and Zidani gaber, which shows a strong presence of foreign ethnic groups, mostly Lombards and Goths, next to the Roman inhabitants.
As the most important result of the programme we will present a monograph about Late Antique settlement of the Roman Empire with an emphasis on the Alpine and Balkan regions.
Contact:
Slavko Ciglenečki
<< Roman History of the present-day Slovenian territory
>> Economic and social dynamics on the territory of Slovenia in the early Middle Ages
Top